Message from Head Boy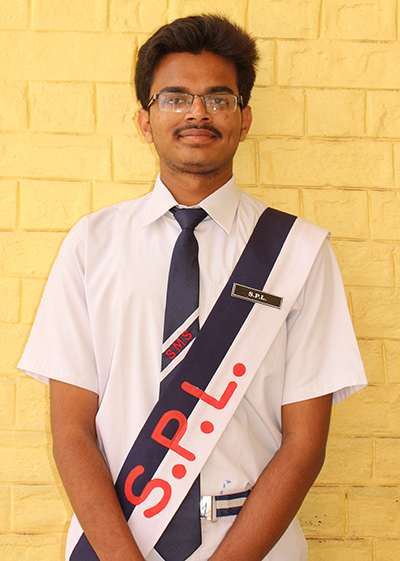 "Victory is much more meaningful when it comes not first from one person, but from the joint efforts of many"
First and foremost , I would like to thank and express my immense gratitude to our Principal and teachers for believing in me and nominating my name for the post of Head Boy. I promise not to let you down and always stand up to your expectations.
I have had the privilege to attend St. Mary's since Kinder Garten. Now as I have entered my final year at St. Mary's , I can't help but admit how this family has supported and motivated me and provided me a platform to showcase my talents. The teachers and the sisters have been a great source of inspiration for me and all the students of our school. St Mary's school instill in us the values that help us combat every challenge with courage and boldness but with the essence of kindness, empathy and love.
If your actions inspire others to dream more , do more and become more, you are a leader. I shall work with this motto for my school and my fellow school mates. I shall always strive to take the students with me on a better path that will lead to the destination of success. We are lucky that our school provides us a vast amount of opportunities , to excel in all areas of Art, Academics and Athletics. This ensures students the chance to lead well-balanced and enriched life for themselves.
My message to each and every student is that " be yourself, do what you feel, will prove out to be an asset to the school. When it is what you want to do and not what you have to do , you always do it better. Always wear the attitude to look onto the brighter side of every aspects;" in the words of Winston Churchill , "A pessimist sees the difficulty in every opportunity and an optimist sees an opportunity in every difficulty." So let us make ourselves intellectually alert and open, emotionally well balanced , morally upright , spiritually sound and eco-conscious students. I hope that with the joint efforts of all, we will be able to take thisinstitution to greater heights and bring a change as St.Mariansworld wide.
Best Wishes
Akshat Mittal (Head Boy)
Message from Head Girl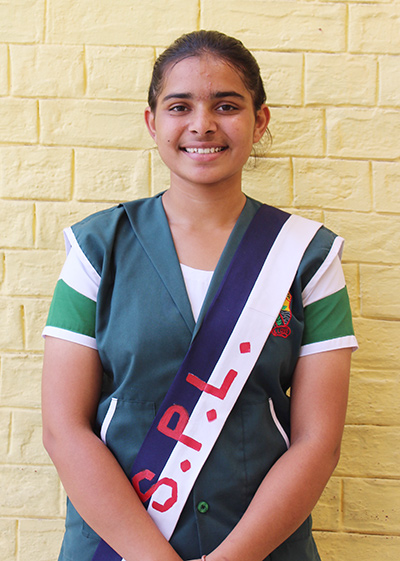 "School is a temple of learning, we as students tread the path of wisdom and knowledge and achieve our goals. The wings of righteousness, confidence and the conviction help to complete endeavors."
Though every year has brought me closer to my school, but this year 2018-19 holds a special place in my life. I have been elected to represent my school in the capacity of School Leader.
I am grateful to Sr. Principal and the School Management who nominated me for the post of Head Girl. I would also like to thank the students who voted me and elected me as their Head Girl and found me capable enough to hold this prestigious post.
I have always admired, how some of my teachers' and Sisters' guidance and motivation has always affected me both academically and personally over the years. Similarly, with the help of value education St. Mary's creates young ladies who are not only capable of conquering every hurdle , but are also the paragons of virtues.
My aim is to change the environment of the school, especially the behavior of the students towards their school work and responsibilities. To achieve this I seek the cooperation of school cabinet, student body , teachers and parents. We need to work together to create a positive learning atmosphere for all the students and communicate regularly with staff and pupils to ensure that they reach their real potential.
My message to the peer group is that success is not a free gift that falls into anyone's lap if one just wishes for it. We must have a clear idea about our aim in life and should strive hard and constantly work for it. As Thomas Edison has rightly said " Genius is one percent inspiration and ninety-nine percent perspiration."
Therefore , we the cabinet members promise to uphold the ideals and traditions of St. Mary's to stand up to all the expectations and fulfill our duties with complete dedication. We as leaders are not just to lead but work in collaboration with each other and to achieve the best for our school.
Best Wishes
Harneet Kaur (Head Girl)